Note: This post contains affiliate links. If you click through and make a purchase, I may receive compensation.  My reviews are based on my personal own experience and research.
The best board games can be a lot of fun and educational for the kids.  I have played a lot of board games since I was small. E.g. Guess who, Scrabble, Monopoly, etc.
The best board games for the kids should be able to help children learn team work, turn-taking, co-operative, social skills, communication skills, as well as other skills which are important to child development.
The following options are the best board games for the kids.
1. Sequence for Kids
Suitable for age 3-6   
Price: $16.59
For 2-4 Players
How to play it?
The rules for Sequence for Kids are simple.
1. Each player gets 3 cards and a pile of their own coloured chips.
2. Suppose you choose the red chips. Play a card and put one of your chips on a square which has the same animal on the card.
3. Pick another card from the deck to replenish their hand.
4. The one who get 4 chips in a row is the winner.
5. There are two 'special' cards.   With the unicorn card, you can put your chip on any square you want.  With the Dragon card, you can remove any chip from the board.
Why I like it?

Sequence for kids requires strategy to win, so kids can practise their thinking skills. On the other hand, they have a random chance to win against their parents.  Parents can play with their children.
This board game is great for children to learn to take turns, lose and win gracefully, vocabulary and pronunciation of animals.
Apart from these, players have to guess which cards they will have in the next turn. And try to figure out which animal square should they put the chips on. Sometimes players have to guess when is the best time to use the special cards. Sometimes they have to block their opponents when it's necessary.


2. Hasbro Gaming Candy Land Kingdom Of Sweet Adventures Board Game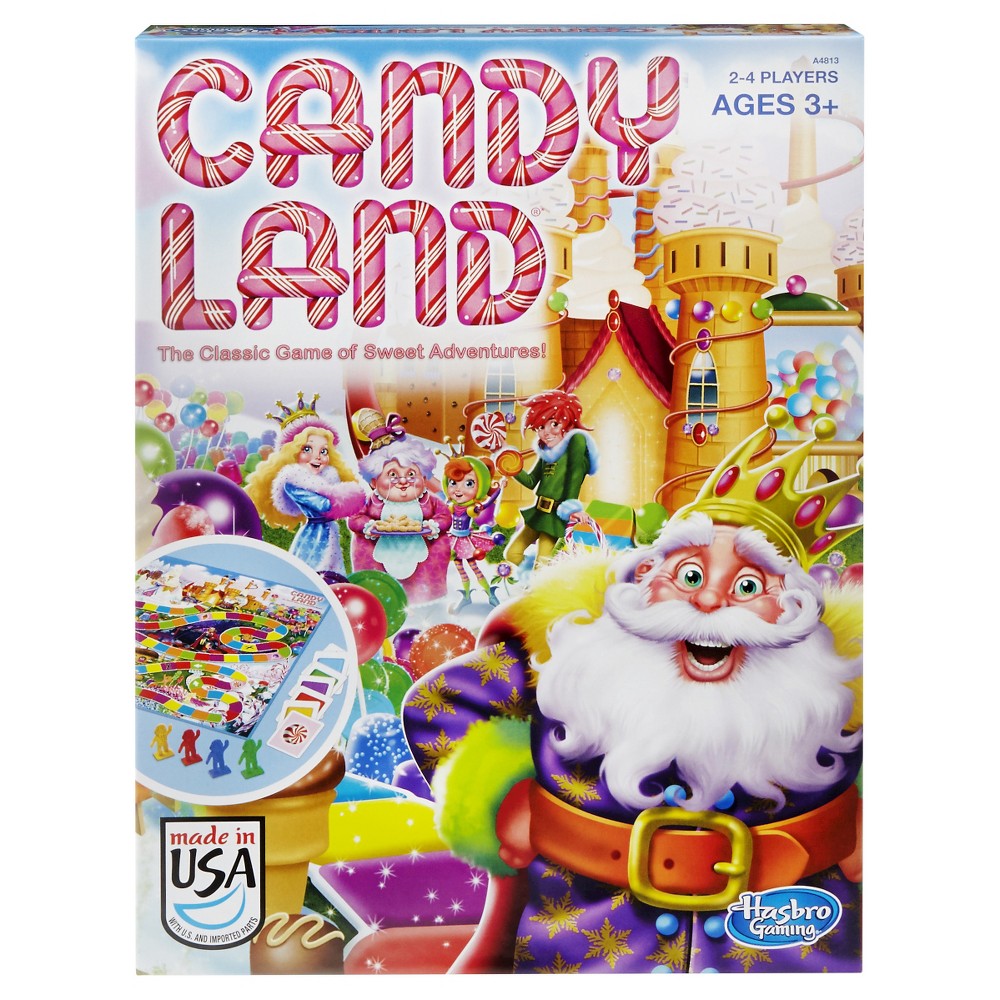 Suitable for Age 4+
Price: $12.99
For 2-4 Players 
Includes gameboard, 4 pawns, card deck and instructions
How to Play it?
Players have to move their counters to the castle.  On the way, there are some 'surprises'.
Why I like it?
Candy Land is a classical game.  It's easy to learn and easy to play. And it does not require reading. So children who are non-readers can also play this game easily.
The board is sturdy and durable.  It can be the first board game for young kids.  I like the colourful board which can attract children's attention and spark their imagination. It can also encourage young children to learn colours.
3. Hasbro Gaming Don't Break the Ice Game
Suitable for Age 3+
Price: $14.99
For 2-4 players
Includes 2 mallets, ice tray frame, 4 ice tray legs,1 large ice block, 32 small ice blocks, Phillip the Penguin figure, and instructions.
How to play it?
1. Tap out ice blocks one by on
2. To win, keep Phillip the Penguin on top.
Why I like it?
Don't Break the Ice Game is very easy to play.  Both young and older kids can have fun together.  The penguin is cute.
Check the price 
4. Orchard Toys Shopping List
For 2-4 Players
Price: $15.5
How to play it?
Each player picks a trolley or basket that they must fill.
Turn over one of the 32 cards showing familiar, everyday items from the supermarket such as eggs, tomatoes, washing powder and toothpaste – if they are on your list, you can pop them in your trolley or basket!
The winner is the first player to collect all the items on their list and fill their trolley.
Why I like it?
This board game is educational in many ways.   First of all, this board game can train children's memory.
Also, children can learn the pronunciation of the words when they are playing.  It's a really great ESL game for children to build up their vocabulary.
Also, children can learn to take turns and have patience while they are waiting for other children.
The tiles are well-made and durable. Their size are suitable for kids. (Approx 6 inches by 4 inches)
5. ThinkFun Zingo Bingo Game
Suitable for age 4-8
2-6 Players
72 tiles and 6 cards
This board game is the winner of an Oppenheim gold award and parents' choice gold award.
How to play it?
Slide the tile words, if the word on your card matches that on the tile, go ahead and pair it!
Why I like it?
It's easy to play with a clear instruction.  It can help young children learn to spell, read and recognise images in a fun way.
I think through recognizing the cards, Zingo Bingo Game can help children improve their concentration skills and early reading skills. Because they have to call 'Bingo' as soon as they recognize the words which can match the pictures. As the children race against each other, they can greatly improve their speed of recognising the common sight words.
The words on the cards are common sight words found in grade 2 books.
Lastly the tiles are sturdy which can be kept for a few years.  And I also like background of the tiles.  The pictures are clear and not colourful.   Children can focus on the words and pictures easily.
6. Busytown, Eye Found It Board Game
Suitable for age 3-6
For 2-4 Players
Price: $24.99 
What you get – The game includes 1 game board, 4 movers, 4 mover bases, 1 spinner, 1 ferry tile, 10 magnifying glass tokens, 6 food tiles, 30 goldbug cards, 1 sand timer, and instructions
How to play it?
ALL of the players have to get to Picnic Island before all of the food is gone.
Move the counters by rotating a spinner.
The spinner has several possible outcomes. There are movements of 1 to 4 squares, two pigs eat food areas, and two Goldbug areas. If any player spins a pigs eat food then 1 of the 6 food tokens is removed from the picnic.
If the spinner stops on "MOVE," move your piece on the path.
If it stops on "Goldbug," pick up a Goldbug card.  It will tell the player what object he/ she has to  find around town.
This game is cooperative…everyone wins or loses as a team. There are different paths to give players options as they move towards the picnic.
At the end everyone must enter the ferry and move towards the picnic.
Why I like it?
1. Busytown Eye Found it Board Game is great for building vocabulary and can help children improve sight word reading and recognise basic household items. The mystery bug cards have both an image of an object and its name on it.
2. It is good for training children's teamwork. All players have to get to the picnic.  Otherwise, no one can win the game. Using their magnifying glasses, players have to help each other to find all the objects.
3. It can improve children's concentration skill, as well as their abilities to pay attention to details while they are looking for objects in the game.
4. It can train children's patience.  When other players are making their way to the picnic, they have to wait for them or to be helpers.
5. The game board is very sturdy.  Most customers can use it for over a year.
6. It's not repetitive.  Each game play is different.  You don't have to worry that your children can remember the location of the objects.
Reminder
It's a 6-foot board.  Your children may need to play on the floor.
7. First Orchard Cooperative Game
Suitable for Age 2-4
For 2-4 Players
Check the price
How to play it? 
This game has been played for over 30 years.  This one is a simplified variation of the classic "Orchard" game.
Playing time: About 10 minutes.
Children has to work as a team to pick the fruits from the trees before the raven reaches the end of the path.
If they can harvest all the fruit before the raven reaches the orchard, they win together!
If the raven gets there first, they lose together against the quick, ravenous raven.
Contents Include: 1 raven, 1 fruit basket, 4 green apples, 4 red apples, 4 yellow pears, 4 blue plums, 5 path cards, 4 trees, 1 color-symbol die, set of game instructions.
Why I like it?
First of all, the fruits and basket are made of wood.   It's safe for young kids and it's durable.
If your kids are not familiar with playing board game, this one is the best for a 2-year-old.  It's easy enough for them to follow.
It's educational as it not only teaches colour, fruit, but also some basic science concepts.  You can make use of this game to teach your kids that apples, pears, and plums grow on trees, fruit comes from plants, etc.
As long as they play with this game, they learn to take turns, follow instructions, count the numbers, win/ lose the game as a team.
8. The Sneaky, Snacky Squirrel Game
Suitable for age 3-7
For 2-4 Players

Price: $30.56
INCLUDES colorful tree-shaped game board, Squirrel Squeezer, 20 colored acorns, 1 game spinner, 4 logs, and instruction guide.

The Sneaky, Snacky Squirrel Game is rated 5 stars by more than 83% of customers on Amazon.
Winner of Parents' Choice Award, Dr. Toy Best Picks, Good Housekeeping Best Toy, Canadian Toy Testing Council, and NAPPA Games Honors awards.
How to play it?

Spin the spinner, squeeze the matching colored acorn with your Squirrel Squeezers, and place it into your log.
You win the game when you are the first to fill your log with delicious acorns!
You could also spin pick an acorn, steal an acorn, or lose an acorn, so be strategic, little squirrel.
Why I like it?
The Sneaky, Snacky Squirrel Game is highly educational.   Children can not only practise their fine motor skills, but can also improve hand eye coordination while they are using the Squirrel Squeezer.  They can learn to take-turns, match the colours with the acorns,
Some customers said it would make a great game for preschool SLPs as well as Occupational Therapists!
It's easy for young kids to play because no reading is required.
This is a competitive game.  A great start to teach you kids to be a gracious loser / a gracious winner.
9. Dixit
Suitable for 8+ 
For 3-6 Players
Playing Time: 30 Mins
How to play it?
In this game, players are given a handful of picture cards. Then they take turns selecting a word to describe a picture in their hand.
The 'Storyteller' must declare a phrase that describes his chosen card while the remaining players select 1 card from their own hand that match the description.
The 'Storyteller' then shuffle all these cards together and reveal them on the table.
All the other players then vote in secret, vote the card which was the Storyteller's original card.  They can have points if they can guess correctly.
The Storyteller only scores points if some of the players around the table guess correctly.  If everyone / no one can guess your cards, the storyteller cannot earn any points.   The player whose card is chosen, scores points.
Check the price 
Why I like it?
Dixit is a great game for training children's creativity and storytelling skills. It's simple to play. You don't have to do calculation, counting or use strategies.
It is a good party game.  Both children and adults can enjoy this game.
The artwork on the cards is really beautiful and can spark children's imagination.